The best Storm Shelter value!
Interested in joining the fastest growing Storm Shelter dealer network in the country? Do you have idle equipment and manpower that you could turn into profits? Look no further!
Granger Plastics is currently expanding their dealership offerings to include many of the best! From construction, to landscaping, to alternative energy, and so many more companies have started benefitting from offering the best Storm shelter on the market!
The Granger ISS Storm Shelter easily installs in just a few hours time! With no anchoring required in most typical installations, The Granger ISS is one of the easiest installed storm shelters in the country! With most installs averaging around 3-4 hours, the Granger ISS Storm shelter will allow you to profit on the sale of the shelter and the easy installation!
Tornado Shelters being picked up by an authorized Granger ISS Tornado Shelter dealer
Join the fastest growing Tornado Shelter dealer network! With exceptional customer service, a superior quality product and with leading sales & installation support, see why the Granger Plastics Tornado shelter is the leading Tornado Shelter innovation in the industry! No other Tornado shelter can provide the features, limited lifetime warranty, customer service and quality that is offered by Granger!
Granger ISS Dealers are supported by the sales & marketing staff at Granger Plastics corporate headquarters in Middletown, OH. Granger Plastics employs a sales & marketing support staff that is second to none in the Tornado Shelter and Storm shelter industries! Granger Plastics efficiently utilizes a number of marketing and sales resources ranging from Search Engine Optimization for Tornado Shelter and Storm Shelter related search terms, print ad's, billboards, tv, video, direct mailing and so much more! Granger Plastics is consistently among the top search results on numerous search engines for a wide variety of commonly used search phrases on both the national and local levels. See the image below as the Granger Plastics www.ingroundsafetyshelter.com website is at the top of Google for the search term 'Tornado Shelters'.
Tornado Shelters at The Top of Google!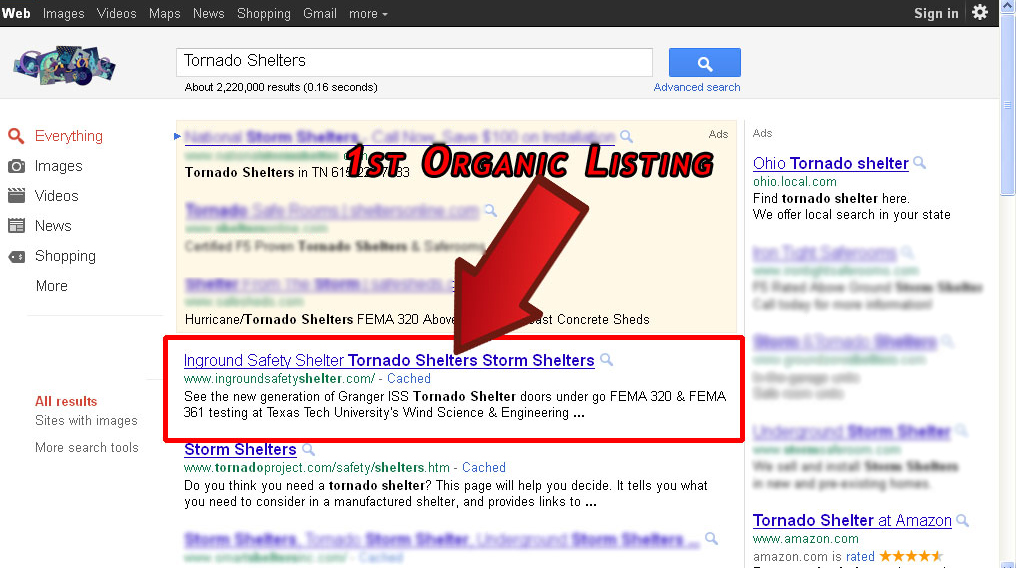 www.ingroundsafetyshelter.com at the top of Google's Search Engine Results Page
Tornado Shelter Dealer Application
Tornado Shelter Industrial Network Marketing
Amongst our vast internet presence, Granger Plastics also does a significant amount of marketing thru industrial networks, such as ThomasNet and MacRAE's Blue Book. Granger Plastics spends tens of thousands of dollars on industrial network marketing, to ensure the success of not only our own proprietary products, such as the Granger ISS Tornado Shelter, but our custom Rotational Molding services and other products such as Air Craft Containers and more!
Granger ISS Banner listing at the top of MacRAE's Shelters listings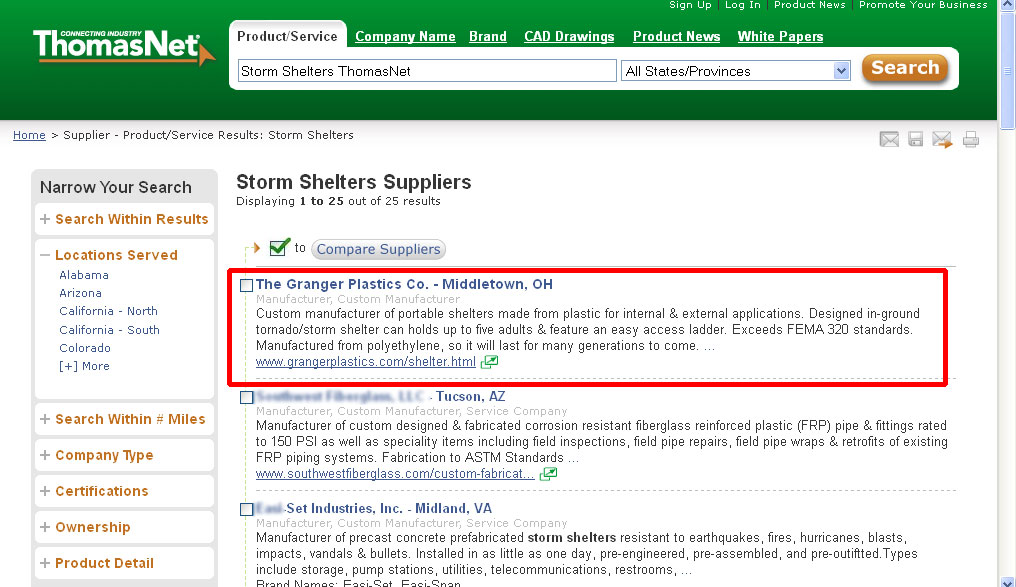 Granger Plastics listing at the top of ThomasNet Industrial Network for Storm Shelters
Easy Tornado Shelter Installation!
One of the leading reasons why the Granger ISS Tornado Shelter is the fastest growing and selling Tornado Shelter out is the ease of installation! Dealers, customers and contractors all have continued to have rave reviews over how simple & easy the Granger ISS Tornado Shelter installation is! Watch the video below, as a Granger ISS Tornado Shelter dealer of the metro Atlanta, GA area, All American Exteriors displays how easy the Granger ISS is to install in this Tornado Shelter installation video from YouTube!
Tornado Shelters at Tradeshows!
Granger Plastics continues to experience great success growing our customer base by continuing to exhibit at a wide variety of Tradeshows! Ranging from industry specific tradeshows, defense & safety product shows, home & garden shows, modular housing shows or even state fairs! Granger Plastics continues to educate and grow its customer base by advertising and marketing at Tradeshows all across the United States! Tornado Shelters are a growing segment of business in a number of markets. With the superior quality of the Granger ISS, take your business to the next level by becoming an authorized Granger ISS dealer!
| | |
| --- | --- |
| Granger Tornado Shelter at a Home Show preparing for the show. | Granger ISS Tornado Shelter dealer setting up at the State Fair |
| | |
| --- | --- |
| Granger Tornado Shelter at a Modular Housing Industry Tradeshow | Granger ISS Tornado Shelter on display at a Home & Garden Show |
| | |
| --- | --- |
| Granger Tornado Shelter at a Home Show prior to opening show | Crowd at the Granger Tornado Shelter at the Home Show! |
Our dealers range from strictly Tornado Shelter dealers, or safety product dealers to Manufactured housing dealers and retailers, landscape companies, garage builders, home & commercial construction companies, septic tank installation companies, excavation companies, security products companies and so much more! Tornado shelters are growing addition to a number of businesses! Fill out the dealer application form and return to Granger Plastics and start selling Tornado Shelters soon!
Tornado Shelter Dealer Application
Tornado Shelter Dealers
Tornado Shelter Contact
Just look at the comparison below to see how the Granger ISS Storm Shelter out performs inferior Storm Shelter materials such as Fiberglass, Steel and Concrete!
Storm Shelter Comparisons
Look below to see how Storm Shelters manufactured from inferior materials compare!
Protect your family with the longest lasting Storm Shelter on the market! The Granger ISS Storm Shelter will provide a safe place for your family for centuries to come! At a cost of less than 3 cents per day, see why the Storm Shelter by Granger Plastics is the best value!
While many "copy cat" Storm Shelters have popped up over the years, The Granger ISS is one of the only patented Storm Shelters recognized by the United States Patent and Trademarks Office! Anyone can make a small investment of a few thousand dollars and buy fiberglass spraying equipment. It takes a serious capital investment in excess of $1,000,000 to begin producing a Rotationally Molded product such as the durable, Granger ISS Storm Shelter. This is one of the reasons why you don't see many other double wall, Rotationally Molde Storm Shelters on the market, If they can't afford to put up the capital to produce a quality product, why should you risk your families lives in an inferior product?
Fill out the Storm Shelter dealer application below. Either Fax it back to Granger Plastics at (513) 424-4799; or email it back to sales@grangerplastics.com to apply to join the Granger ISS Storm Shelter dealer network!
Storm Shelter Dealer Application
Storm Shelter Dealer Application
Our Storm Shelters are in stock! No deposit required with a long wait! No waiting 4-6 weeks to get your unit! Order today, your unit can ship today!
Storm Shelter Information